Functional Fitness
Functional Fitness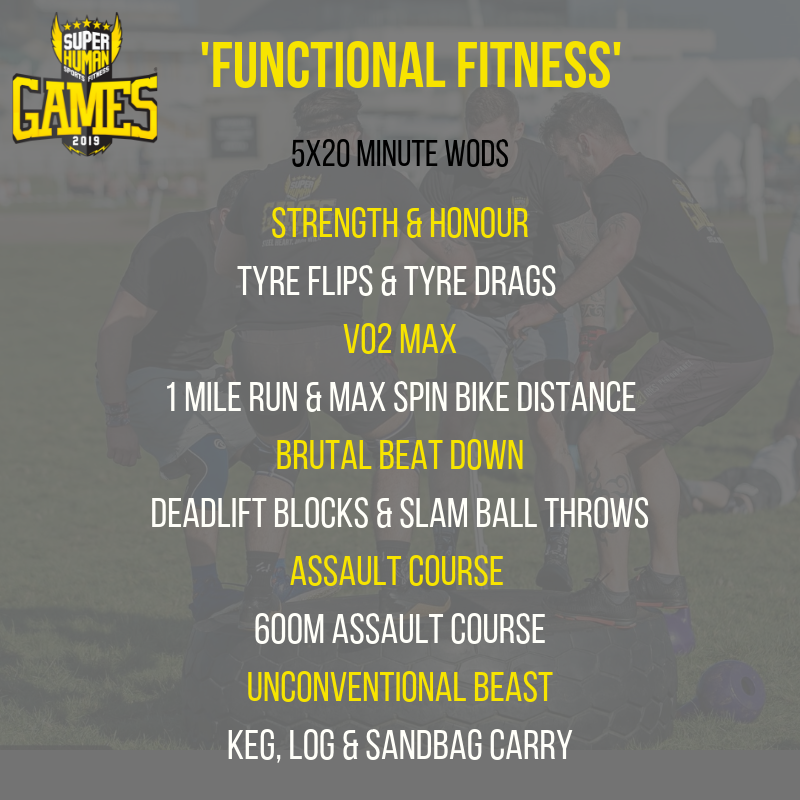 You can see more in-depth details about the challenges here ..
https://www.superhumansports.com/storage/app/media/WODS%202019.pdf

Entry Categories;
Same Sex Pairs (Open 18-34 /Masters 35-44 /Vets 45+)
Individuals (Open/Masters/Vets)
Location:
Greville Smyth Sports Ground
Ashton Road,
Bristol, BS3 2EJ
Check out what previous competitors have to say ...
"I took part in the 2018 games and as well as being one of the toughest events I've ever done, it was also the most fun. Organised by great team and great competitors with a great atmosphere all day!"
Paul West
"The atmosphere is absolutely electric"
James Dey
"What a fantastic competition to end the year on. Tough, but great workouts. Fab judges and a very friendly set of competitors"
Colin Clark
"Cannot rate these guys enough. Done a few events now and they are faultless"
Lu Emily
"My first ever SHG and I absolutely loved it. Exceptional organisation, the events were really challenging which has left my body in bits. There was a very friendly encouraging vibe all day from staff, judges and competitors. I will 100% be back to take this event in next year"
Matt Price
"Fantastic event. Made Tough Mudder seem like a walk in the park"
Peter Bender
Should you need any further assistance or have any questions please feel free to email us at events@superhumansports.com